How can a big event help potential attendees decide if the event is right for them? For the 3rd year, Global Gaming Expo has used a CredSpark-powered interaction to personalize recommendations to potential attendees. By showing specific sessions and responding directly to what consumers indicate interest in, G2E is about to showcase the value of the event in a uniquely targeted way. 
How this CredSpark experience looks in context: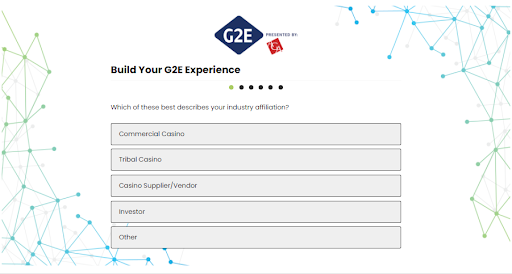 If you're running events, interactions can help you not just showcase but pinpoint the value of that event to each specific audience member. There's no need for one-size-fits-all when you can help guide your prospects to the rationale for attendance that matters to them. 
registration form completion rate
contact information provided rate
For over 20 years, Global Gaming Expo (G2E) has been the leader in uniting the global gaming community. Whether engaging in-person or digitally, G2E offers industry leaders a productive, educational, and rewarding way to connect year-round.
How can you leverage CredSpark in your organization?
Let's find out. Start with a demo that's customized to your specific business needs and goals.