At CredSpark, our goal is to create powerful tools that can accomplish complex tasks through a user-friendly, easy-to-use interface. We think our latest product release sets that bar even higher. Let's take a closer look at these incredibly useful new features. We really think they can be game changers for your learning, training, and assessment programs.
Quick Overview
Casey, CredSpark's Head of Content Services, walks you through the highlights of our latest product release in this brief video.
Question Bank
(Ultimate/CredSpark+)
We're thrilled to announce the release of Question Bank, where you can now build your own library of questions and reuse them in multiple interactions. This feature can be helpful in so many ways, keeping your brand language consistent, re-using registration questions and disclaimer text, using certified and approved questions in your quizzes, and more!
Our 1.0 version offers these capabilities:
Tag questions for quick and easy search
Track who created each question and when
Track when a question was last edited
Track which interactions are using the question
Edit a question and instantly update all interactions using that question
Unlink a question from the Question Bank and customize it based on your needs
We look forward to getting your feedback to help inform Question Bank's future new features, improvements, and enhancements.

Learn more about Question Bank
Sections
(All license tiers)
With Sections, you can create sets of questions within your interactions. Sections are useful if you want to set different settings for different sets of questions. For example, you might want to display registration questions at the beginning of the interaction but want to shuffle all other questions. Sections can also be used to organize longer surveys. You may want to call the first section with registration questions, "Contact Info" and maybe the rest of your interaction questions go in a section called "Main Survey."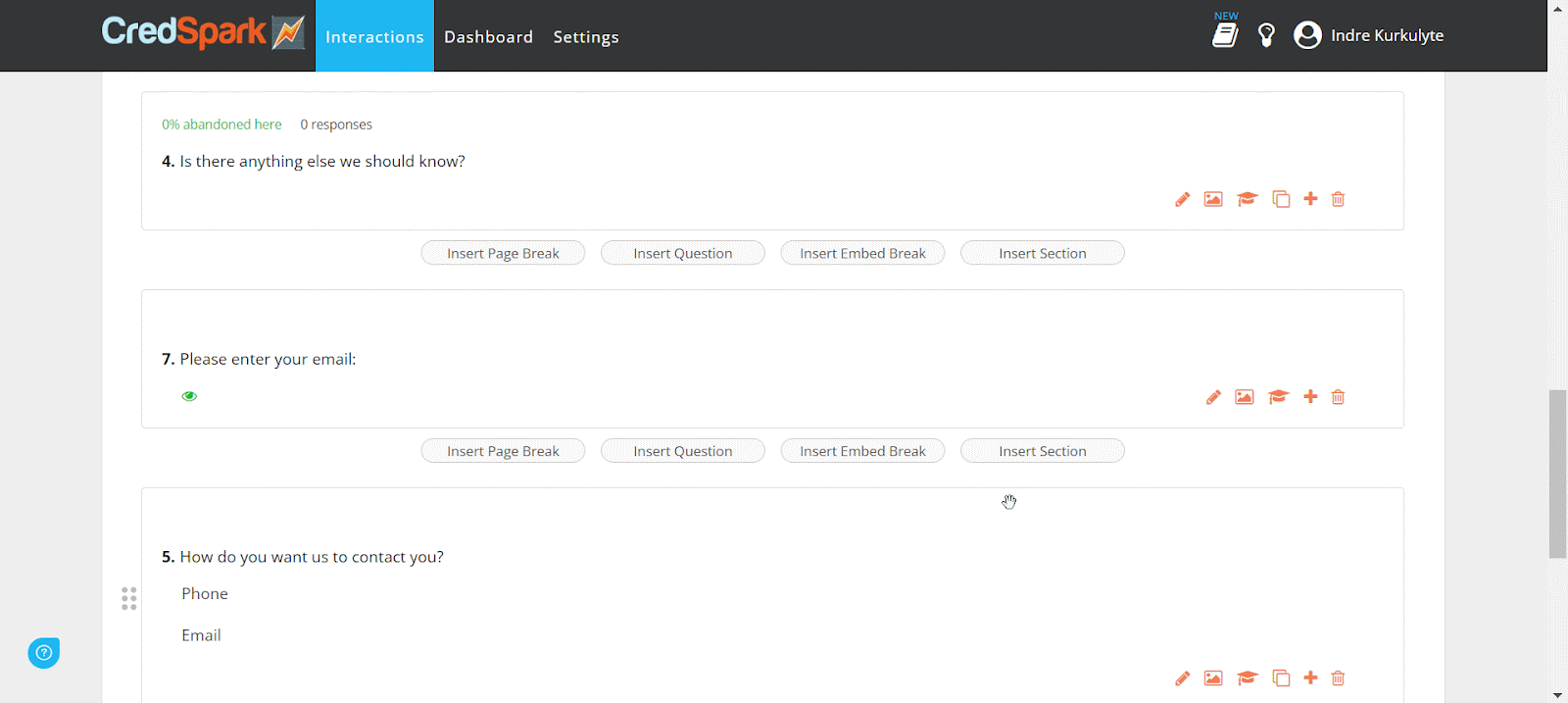 Learn how to Separate Questions with Sections
Accessibility Improvements
(All license tiers)
With this latest release, we made important improvements to Focus and Keyboard Operability, making interaction elements on focus always visible and obvious for keyboard- only users. NOTE: Not all question types are supported. Focus won't work for Drag & Drop, Image Select, Checkbox, Recommendation Rating, or File Upload question types. Please give us your feedback on our Accessibility efforts: support@credspark.com.
Degreed clients – come play with us!
If you're using CredSpark within Degreed, Question Bank and Sections could help take your training, skills, and talent development programs to the next level. Contact us to find out how you can leverage these new features within Degreed.