How much do you know about the Electoral College?
The Fulcrum got more ROI from their content investment by transforming an existing article about the Electoral College into an engaging, interactive quiz that challenged and educated their audience.
How this CredSpark experience looks in context: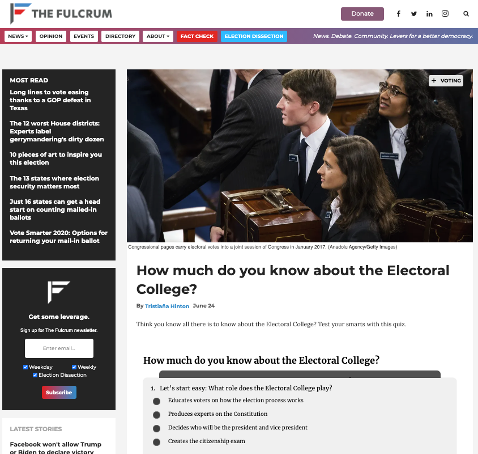 readers who answered question 1
readers who answered all 10 questions
The Fulcrum is a digital news organization focused exclusively on efforts to reverse the dysfunctions plaguing American democracy. The Fulcrum is nonprofit and nonpartisan. The Fulcrum publishes original stories, news they gather from across the country, and an opinion forum, all tightly focused on money in politics, redistricting, voting rights, election access, government ethics, civic engagement, and the imbalance of powers.
How can you leverage CredSpark in your organization?
Let's find out. Start with a demo that's customized to your specific business needs and goals.