Test Your Jewelry Knowledge & Be Entered to Win!
How do you help a sponsor raise awareness about a new product offering? JCK offered Brite.Co a hybrid quiz/market research/lead qualification engagement, inviting their audience of jewelry professionals to engage with fun, industry-relevant content while also collecting data on that audience's needs.
How this CredSpark experience looks in context: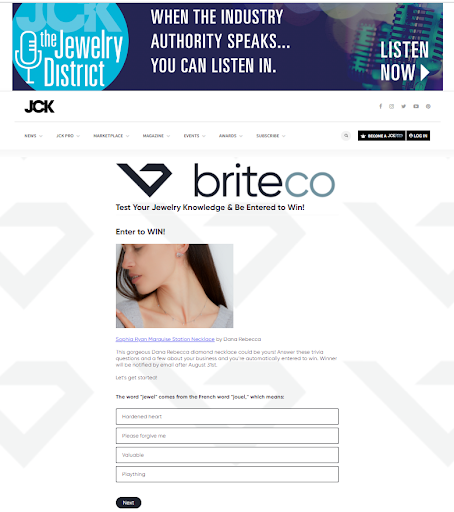 Incentives can help improve lead capture rates: what can you offer your audience in exchange for their time and information? Hint: It doesn't have to be diamonds: just something your audience sees as of value to them.
respondents wanted to learn more about the sponsor's product
respondents clicked on "Meet with us" link
BriteCo brings fine jewelry and watch insurance into the digital age to make getting an insurance policy faster, easier and more affordable than ever before.
How can you leverage CredSpark in your organization?
Let's find out. Start with a demo that's customized to your specific business needs and goals.