When's the last time a conference or event had a profound impact on your professional life?
When's the last time you found yourself thinking about something you learned or experienced at a conference or event weeks or months after attending?
Unfortunately, most industry confabs are one-dimensional, annual fire hoses of information and activities that leave very little impact after your Uber to the airport.
You Need to Reimagine Your Conferences and Events for the Age of Engagement.
With the relentless competition for mindshare and attention, your events need to be immersive, memorable, relevant, and connective. Impactful events imbue a sense of community and create meaningful, relevant connections that last well beyond the last session.
How do you facilitate impactful events? Start by thinking outside of the time box. At CredSpark, we think of events as ongoing experiences that happen to have a live, in-person or virtual component at some point during the year. Engagement and interaction should be happening before, during, and after the live event. With that in mind, we created a helpful framework to get you started on reimagining your events—and reaping the benefits of a 360° experience:  greater engagement, greater sponsor participation, lasting value and relevance for attendees, actionable data and insights, and more revenue. Let's take a look…
The CredSpark 360° Framework for Conferences & Events.
At CredSpark, we work with some of the largest producers of conferences, events, expos, and trade shows to create turnkey experiences that have lasting impact on attendees and your bottom line.
Connection:  Build communities around shared interests, major event topics, or types of attendees. It's a great way to bring people together and make attending your event an important catalyst for creating professional relationships that matter.
Research:  Use pre-event interactions with prospective attendees to uncover the topics, issues, vendors, and concerns that are important to them. Then, use that market intelligence to develop can't-miss sessions, speakers, learning opportunities, and more.
Engage:  Use CredSpark's  live, real-time response and gaming features during your sessions to get instant feedback, facilitate audience participation, and even spark a little competitive fun.
Data:  Create interactions that uncover actionable data and insights on attendee interests, goals, needs, and more. That data can be the fuel for creating connections among attendees and with sponsors, speakers, and exhibitors.
Sponsor & Exhibitor Engagement:  Develop data-driven sponsorships that match sponsors and exhibitors with highly qualified attendees. Sponsors and exhibitors will pay a premium for excellent sales intelligence. Don't rely on attendees stumbling their way through the exhibition hall; give them precision guidance!
Personalize: Throw away the 20-page agenda and deliver each individual attendee a personalized programme and personalized introductions to relevant sponsors and exhibitors—all based on their specific interests, needs, and goals.
Awareness:  Create compelling interactions and journeys that help prospective registrants uncover their reason for attending your event. Build in share features to amplify your reach, help prospects seek supervisory/budget approval for attending, and even facilitate meetings in person at the event.
Re-Engage:  Don't stop engaging the minute people head to the airport. Create post-event interactions that collect feedback, solicit ideas, and keep your event and services top-of-mind all year long.
Knowledge:  People love to learn. Make educational experiences central aspects of your event. Use CredSpark quiz and assessment features to uncover attendee knowledge gaps, show how they stack up against their peers on key topics, and point them in the right direction to relevant services, exhibitors, and sponsors for more information or additional learning opportunities.
It's a lot to think about; but the return on a 360° event experience is well worth the effort. Oh, and here's a helpful mnemonic device to remember the key points: CREDSPARK.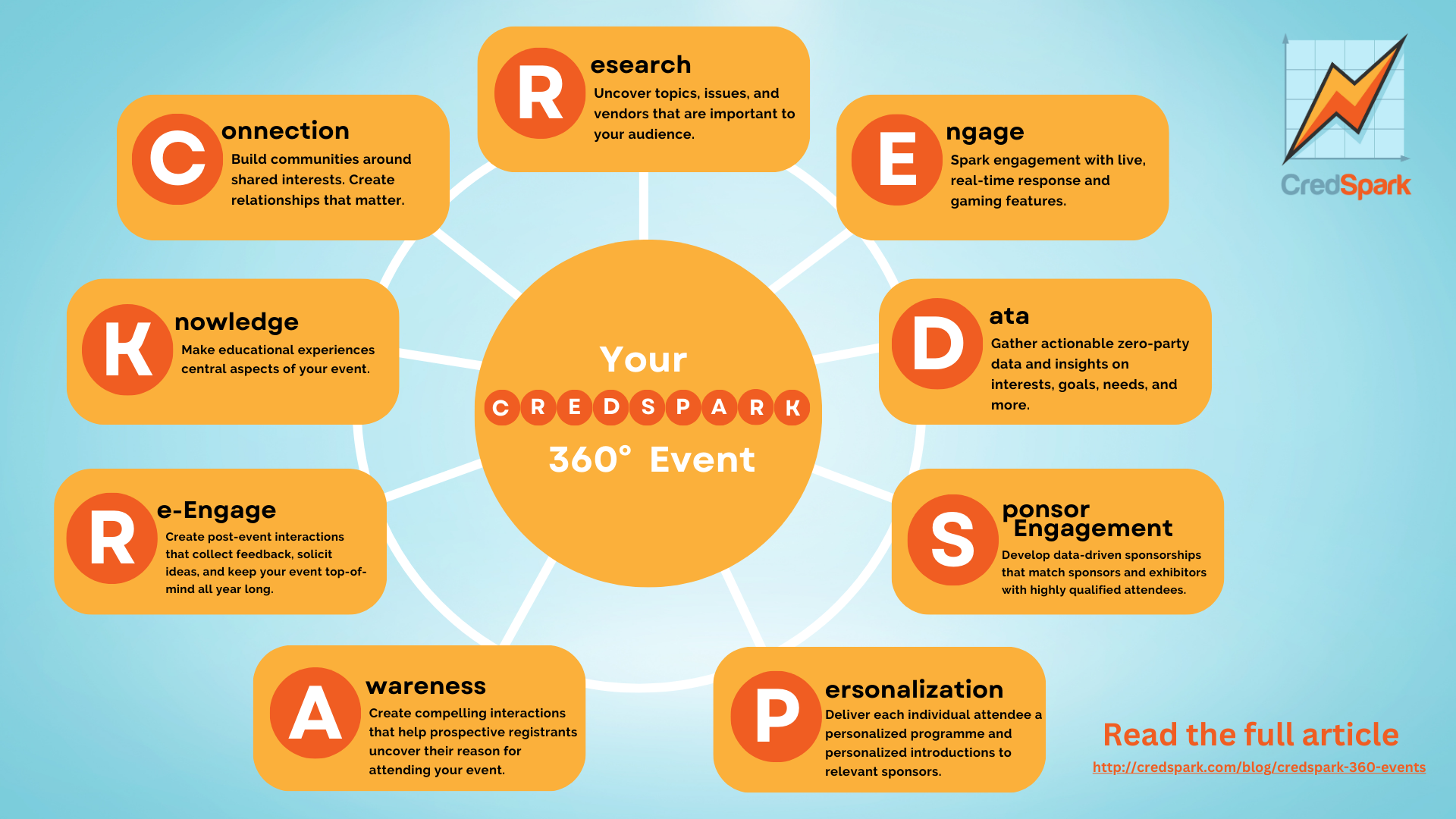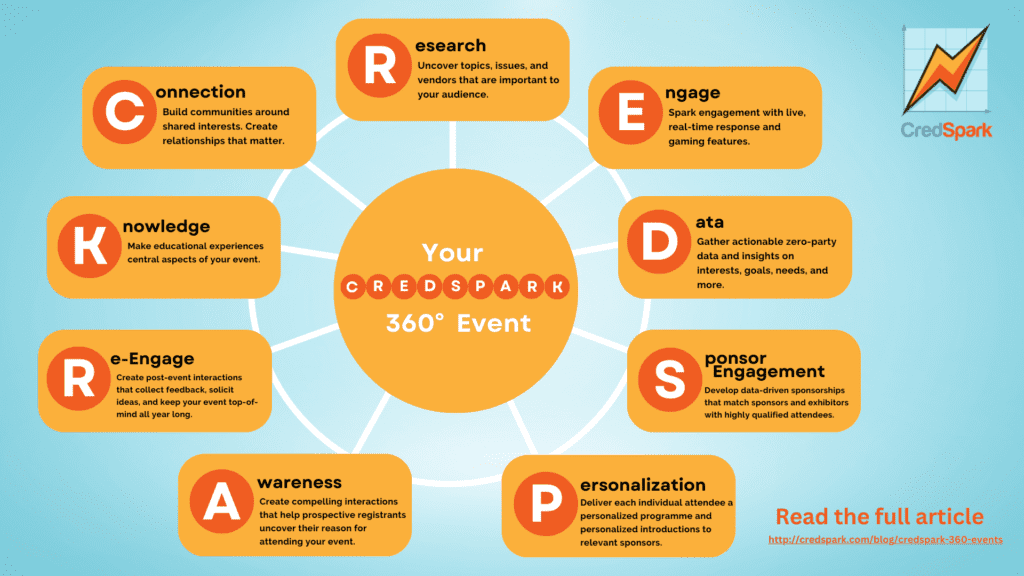 Explore the CredSpark 360° Event Framework in Action.
Discover how CredSpark clients are incorporating the ideas and concepts in the CredSpark framework into their events and see the incredible results and ROI they experienced.